Galway Cartridge has identified and reported on a internet update – which was uploaded and launched in mid September 2016, and which affects and "locks out" remanufactured or refilled HP Inc 950/951, 934/935, 970/971, 932/933 cartridges and XL versions, which are used in the OfficeJet Pro printers.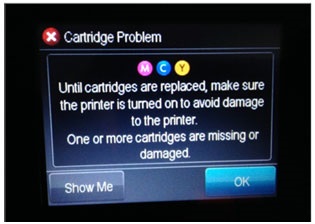 We note that on upgrading the firmware, and using "older versions of the smartchip that are not compatible with the new firmware", consumers will see lockout messages.
These include "Cartridge Problem", "One or more cartridges are missing or damaged", or "Older generation cartridge", and the error "can jump from colour to colour; all refilled cartridges may be suspect". If you have recently updated your printer's software/firmware and have experienced a cartridge lockout, we recommend you return your cartridges to the retailer.
To "disable" the automatic firmware updates, users should click settings when receiving the warning of an update, and to select 'Never' under the notification software update frequency tab.